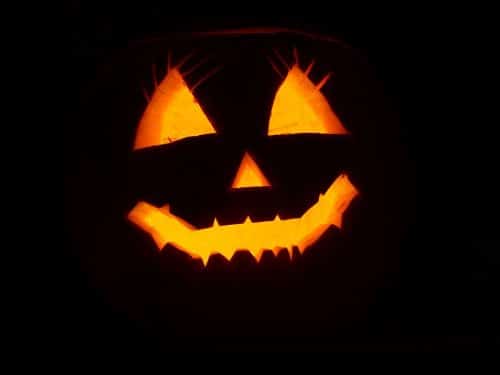 13 Tips for Homeowners on Halloween
Posted on October 1, 2019 by A-1
Of all the holidays throughout the year, none impact the homeowner quite like Halloween. After all, it's the only one that focuses on participants going from door to door. Whether you're going out for trick-or-treating or you're staying in and passing out candy, here are 13(!) tips to keep you, others and your home safe during this typically spooky holiday:

Keep your exterior lights on: This helps you see visitors and helps them see you as well. Consider buying some brighter bulbs for even more visibility. Your lights are also an indication to potential trick-or-treaters that you are participating in the holiday.
Avoid using real candles: They have LED lights that look and act like candles. Consider using them instead of candles, as that can be a potential fire hazard.
Test your smoke alarms: Speaking of fire hazards, it's also a good time to test your smoke alarms and ensure they're working properly.
Invest in a video doorbell or security camera: Don't be a victim of the "trick" part of trick-or-treat by installing a video-capturing device. The more visible it is, the better.
Keep pets inside: Just like the Fourth of July, pets can become easily scared during Halloween. So try to keep them inside (preferably in a closed room) and away from other trick-or-treaters.
Clear the walkway: Try to avoid putting anything that could cause an injury to a pedestrian in walkways, sidewalks or stairs. It's also a good idea to consider adding reflective strips for one night.
Clean the walkway: In addition to removing obstacles, try to get rid of any dirt or leaves, as they can be a slipping hazard.
Add friction tape or carpet to stairs: If it happens to be damp or wet on Halloween, stairs can especially be a hazard. Ensure they aren't slippery by putting down some friction tape or carpet.
Park your car in the garage: This will not only help inadvertent scratches from trick-or-treaters, but will eliminate the risk of it being vandalized.
Hand out store-bought treats: While homemade treats are a nice gesture, many parents won't let their children eat them due to allergies or other worries.
Ensure you have a spare key on hand: The last thing you need on Halloween is to get locked out of your home. Fortunately, a locksmith can help with key duplication.
Tone down the overly scary decorations: Avoid unwanted damage to your home or decorations by ensuring they aren't overly scary or will catch people off guard.
Turn your alarm on before going to bed: Hopefully you turned your alarm off before the night began, but be sure to turn it back on again before turning in for the night. Don't have an alarm? Learn more about buying one here.
If you're interested in other ways to improve your home's security, give the A-1 Locksmith team a call today at 972-284-7500.

Back to Blog