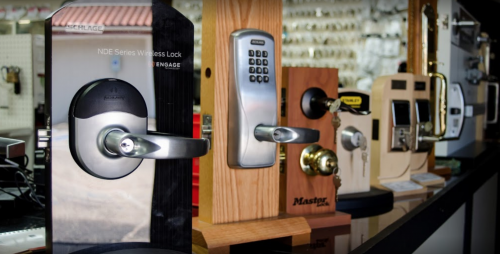 Access Control Systems: 5 Things DFW Business Owners Need to Know
Posted on January 22, 2020 by A-1
There are certain things in life that you can't control. Like the future. Or your neighbor's lawn art decisions. Or your toddler's tantrum in the middle of a crowded grocery store. But there are also things you can control, such as your business' level of security.
Take access control systems, for example. Did you know you can control access to everything from a supply closet to an entire office complex? Or that access control systems don't have to be expensive? Let's take a look at five things you might not know about access control systems and why they might make sense for your Dallas-Fort Worth business.
1. They Take Security to Another Level
For starters, you might not even know what an access control system is. Access control systems can range from electronic deadbolts with keys that are programed to open a lock at specific time ranges to full proxy card and access logging systems. All of this gives your DFW business top-quality security in a way that regular door locks can't.
2. They're Not All Expensive
Again, access control systems can range in complexity, so they can range in price as well. "Access control" simply means controlling access to areas that allow some users in while keeping others out. People have been using simple, affordable access control systems for years. Once you determine your budget, you can find an effective access control system that meets your DFW business' needs.
3. Top Companies Use Them
Several well-known businesses in Dallas-Fort Worth and beyond use access control systems and other high-security solutions. For example, the City of Arlington, AAA, Burger King, The Cheesecake Factory, Taco Bueno, Chipotle, The Salvation Army, Little Caesars, the City of Dallas, Walmart, DFW airport, Baylor Health Care Systems and Zoës Kitchen all are happy corporate clients of companies like A-1 Locksmith Security & Safes that sell and install access control systems and digital locks.
4. Brands Matter
You don't want to trust the security of your Dallas-Fort Worth business to a generic brand or a brand that can't be trusted. When it comes to access control systems, brands matter. A few of the best access control brands are ASSA Abloy, BEST Access and Mul-T-Lock.
5. The Possibilities Are Endless
Lastly, your access control system can be personalized to fit your DFW business' needs. The right access control system installer will ask the right questions to recommend the perfect solution for you. There is no "one size fits all" solution when it comes to access control systems. At A-1 Locksmith Security & Safes, for example, we'll make sure to identify what your real needs are, what you want to protect, how much control you need and what areas of your business to limit access. The possibilities really are endless.
If you're interested in an access control system for your Dallas-Fort Worth business, give the A-1 Locksmith Security & Safes team a call at 972-284-7500 or visit one of our DFW locations today.
Back to Blog