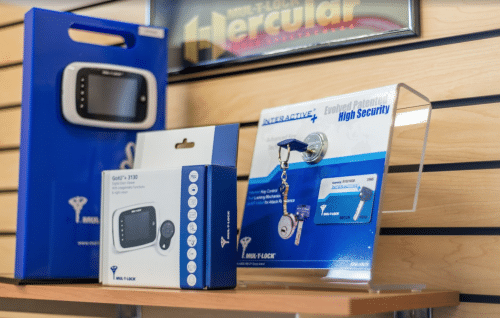 Why Every Dallas-Fort Worth Business Needs a Master Key System
Posted on October 17, 2019 by A-1
As a Dallas business owner, you need to ensure your building is as secure as possible. Completely coating your building's exterior in stainless steel is one way to ensure that it's secure. But this isn't a very practical option, is it?
No, your building obviously needs to be accessible to you as well. 
A solution that solves both of these problems is a master key system. Let's take a look at what a master key system involves and how you can get one for your DFW business.
What Is a Master Key System?
A master key system is more than just a bunch of locks. It's a complex, multi-tiered security system for your business. The owner of the business gets a master key that unlocks every lock in the building, then employees of the owner's choosing get keys that access certain areas. For example, if you have a janitor, he or she may need access to more parts of the building than office workers. With a master key system, you can customize your building's security the way you want.
Benefits of Master Key Systems
So, why choose a master key system instead of a traditional set of locks and keys? Well, aside from the fact it gives you superior control over the security of your business, it comes with several other benefits as well. Here are some of them:
Convenience: access all the locks in your building with just one key.
Flexibility: give access to certain areas and certain employees as you see fit.
Security: except for you, no one can duplicate keys.
Practicality: there's no need to install expensive new locks. Typically, with a master key system, you can get your old locks re-keyed.
Efficiency: Employees aren't slowed down by having to ask for access to certain areas. They already have access to all the areas they need.
How to Get a Master Key System for Your Business
A-1 Locksmith is proud to sell and install the best master key systems in Dallas-Fort Worth. We offer locks that are pick, bump and drill resistant, as well as keys that only allow access during certain times of the day. Here are some of the other perks of our master key systems:
Top brands: From ASSA Abloy and BEST CORMAX to BEST Access and Mul-T-Lock®, we have the top master key system brands at affordable prices.
Master key chart: We offer a master key chart planning and system design.
System versatility: We can work on new or existing master key systems.
Protected duplication: We set up your account where only authorized personnel can request work or duplicate keys.
If you're a Dallas-Fort Worth business owner interested in a master key system, give the A-1 Locksmith team a call today at 972-284-7500.

Back to Blog