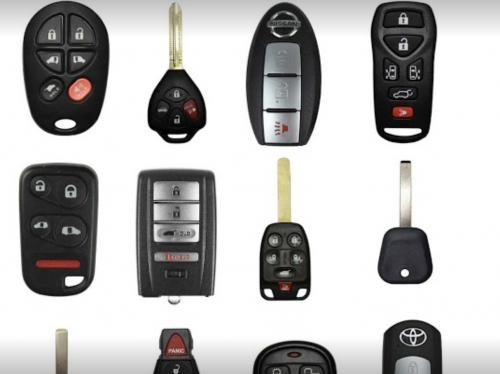 A Look at High-Tech Keys That Prevent Auto Lockouts
Posted on May 21, 2020 by A-1
Isn't modern technology great? Imagine the reaction of people from generations ago if we told them that one day they'd be able to schedule a single-serve cup of coffee to greet them in the morning when they wake up. Or, that they'd be able to control the temperature of the room by simply using their voice. Or, that their car wouldn't lock if the key was still inside it.
We'll be taking a closer look at the latter scenario in today's post. First, let's go over the different types of high-tech keys and then let's discuss the benefits of these keys, which include preventing auto lockouts.
Types of High-Tech Keys
There are several different types of car keys, which we've covered on this blog before, from mechanical and programmable to laser-cut keys and FOBs. But high-tech keys are their own category and there are several different types of them. Some are widely available, others are unique keys developed by specific car manufacturers. Let's cover a few different types to give you an idea about the options out there:
Transponder keys: These look like fairly normal keys, but have a microchip built into the head of the key. The chip sends radio frequencies back and forth between the key and the car, hence the name "transponder."
Valet keys: If you've gotten a new car from a dealership, you've probably seen these. Valet keys may seem simple, but they have some advanced tech in them. They'll start the car and open the door, but won't open the glove box or trunk.
Smart keys: With these keys, you can start the car and access the vehicle without even taking the keys out of your pocket. This is all due to sensors and chips in the key.
VATS keys: A high-tech key that actually doesn't rely on computer technology, Vehicle Anti-Theft System (VATS) keys are uniquely cut and feature an anti-theft resistor.
Brand-specific keys: Some brands take innovation to the next level when it comes to high-tech keys. As this Business Insider article points out, you'll find keys out there that have touchscreens, remote parking capabilities and more.
Benefits of High-Tech Keys
The biggest benefit of all these high-tech keys? Extra security. Keeping you, your car and your belongings safe is the main purpose behind them. But they also have other benefits beyond auto lockout prevention, such as convenience, peace of mind and remote tracking. (Let's be honest, they also look pretty cool.) If you're interested in learning more about their benefits, be sure to talk to an automotive rekeying locksmith about them.
Interested in high-tech keys like these that prevent auto lockouts? Give the A-1 Locksmith team a call today at 972-284-7500 (or stop by any of our DFW locations) and we'll help you out.

Back to Blog